We know lots and we are not afraid :-)
Since 1995 year are friends with everything which have a wheels. Story started with car stereos and super mega giga woofer, handsfree installations, to present with multimedia projects and installations. Our today work is mostly updating map and navigations all types and brands, translating car systems to Czech language and coding & programming. With diagnostic tools we set up car equipments and units, make video in motion, read errors from car system etc.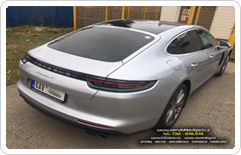 On our site among others also find daily updated samples of our work. Its not possible show here everything what we did & do - every day we solve 2 - 5 cars. We have solution for standard and special cars, buses, trucks and motorcycles. Simply for all, what have a wheels. From simply antena repairing, through map installations, to add DVD players, TV receivers, navigations, LCD displays or GPS tracking.
We do not avoid special and non-standard requirements of the client - at link Our work you can see, what all comes to us, and after return to home satisfied :-)
Whether you are a car owner or chief dispatcher big companies, we always find the best solution for your needs. Given field really understand. Our satisfied customers contact us with joy with each newly acquired car, for which we gladly thank them .-)
Daily samples of work in Gallery or online: